About this event
Working remotely has forced many employees to feel disconnected from their coworkers. Talk Less Sign More is a team-building workshop on communication, intuition, mutual aid, and interaction with others. Your team will dive into an ASL-inspired experience, learn some basic signs, and play fun games to test your knowledge! The language offers a sense of transparency that will help your team take a step out of their comfort zone, better understand each other, and develop an awareness of the Deaf community! Inclusivity has never been more important, so now more than ever should your team be learning how to communicate outside of a spoken language.
In this one-hour session, your team will learn common words, phrases, and even the alphabet through quick and fun games tailored to teaching people with zero sign language experience to start to understand the simplicity of learning ASL. Also, expect to learn to say your company name and any other team-related terms you are interested in!
What to bring:
For this event, your team will need to bring a pen and paper, a scarf or bandana, and a hat! When you join the meeting enter your first name, favorite color, and emoticon (example: Nick, Electric Blue, excited) in the name section.
---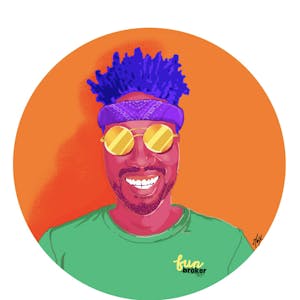 Nick Jeudy-Lamour
Founder of Fun Broker
Nick Jeudy-Lamour is the founder and head of Happiness Development at Fun Broker. At its core, his mission is to bring people together through leadership and team building. After receiving a Bachelor's Degree in Business from the UQAM, Nick worked on strategic acquisition at BuLLE Soccer and then Community Leadership at Airbnb. He believes Sign Language is a great tool to cultivate team strength because of its transparency, interactivity, and how much concentration and intuition play a role. Nick is confident that if everyone combines their efforts, it will make a powerful and unified team!