About this event
Looking for a fun and relaxing way to de-stress with your co-workers? Surprise your staff with something fun and different: invite cute animals to crash your next video conference meeting! Our virtual conference Petting Zooms are a great way to shake things up and bond with your team members. Lighten the mood, spark chit chat, and boost morale of your remote staff. Let us help celebrate goal achievements, staff birthdays, or show your employees that their efforts are appreciated after a stressful work week. Each animal is raised with extreme care and their well being is our absolute top priority.
What to bring:
For this event no additional items are necessary to participate. Simply arrive to the video conference at your designated time and enjoy!
---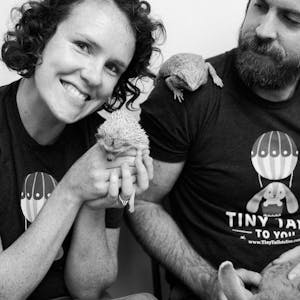 Tiny Tails To You
We started Tiny Tails to You in January, 2010 as a way to create safe and fun one-to-one connections with animals. Today, Tiny Tails to You is one of the highest rated event companies in Texas! As people spend more and more time interacting with screens and technology, they get less time being out in nature and with animals. Often our customers (and their children) describe how meaningful and special their experience was because a connection with an animal provides a more personal understanding of nature, the larger ecosystem, and the importance of protecting our environment.