About this event
During these remote work times, organizations are looking for ways to maintain social connections and team engagement. Our Virtual Trivia event is the perfect way to come together online with an action-packed, team-building experience with professional live hosting and exciting trivia content.
Each session has a trained host that uses the right tools to keep the group engaged! The questions are an efficient mixture of clever and creative to keep the rounds challenging and fun. Your team will break out into private rooms throughout the event to collaborate on answers, ensuring everyone feels like they are contributing and learning! Get your team engaged today.
---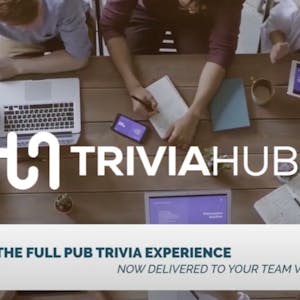 Trivia Hub
In 2018, Trivia Hub started with a mission to help keep a remote world connected. Through a one-of-a-kind engagement experience, Trivia Hub is working to help businesses build culture and increase employee engagement. Trivia Hub has a full roster of professional hosts ready to bring both entertainment and logistical bliss to your event!