About this event
In the fast-paced world, it is essential to sit back, relax, and lean into creativity. Paint and Sip is the answer! In the hour and 15-minute session, your team will learn how to paint a beautiful piece of art and build relationships while doing it.
This event encourages all creative skill levels, offers step-by-step guidance by an expert artist, and provides connection and some fun! Make sure you bring your drink of choice to sip on while you embark on your imaginative experience.
What to bring:
Canvas, Posterboard, or Paper - Canvas is definitely the easiest and sturdiest, but I get that we are doing this from home! Feel free to use paper, but note the heavier the better.
Brushes - I will be using a bigger brush (about 1") and a smaller brush (about 1/8").
Cup of Water
Paint: I will be using acrylic paint in blue, White, Black, Green, Red, Yellow, Brown (or we can mix brown). If you don't have those colors, you can use others!
Plate or Take-out Container: for your palette!
Paper towels
Apron or old T-shirt - just in case you get crazy
A beverage of your choice
---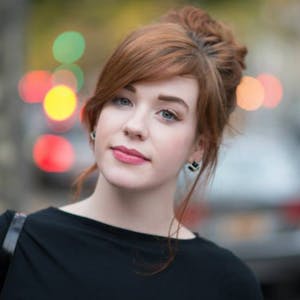 Megan Watters
Megan Watters is a contemporary mixed-media artist. She has worked on window displays, charged Broadway and off-Broadway shows, and painted on several film sets. She has gone on to manage large-scale fabrication projects, including award-winning Macy's Holiday Windows.
Her artwork includes painting, collage, and assemblages. She has shown work in various shows throughout NYC and Atlanta. She has a passion for teaching and community building. She firmly believes art is a connection.