About this event
After months of virtual happy hours and failed group bonding tactics, it's time for your team to take it up a notch. Participate in a world renowned cocktail class without leaving the comfort of your remote work space. Our international award-winning bartender Harry Hanson will teach your team how the pros sling drinks by guiding you through two delicious cocktails using simple ingredients. No ride home or bar tab required, only a few drinks and a complete 180 in team interconnectivity.
In this hour-long experience, your team will work together to create two unbelievable drinks while also exploring each other's strengths and weaknesses. Unwind over a good drink and refresh your spirits after a long week, or maybe even start off your team's Monday on a good note... It's 5pm somewhere!
What to bring:
For this event Harry will contact your team's coordinator to establish which drinks you would like to learn to create, both alcoholic and non-alcoholic. Once the drinks are confirmed, Harry will send out an ingredient list before the event so any guests that are interested can obtain the necessary materials beforehand!
---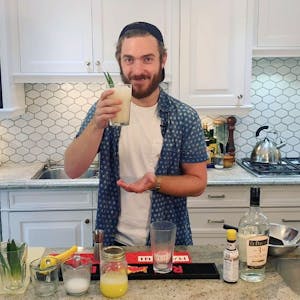 Harry Hanson
Virtual Bartender
Harry is not a mixologist. He doesn't wear a lab coat, and he doesn't wear a mask or gloves (except when leaving to go grocery shopping). He's a bartender who wants to help you get through this historical event called 2020, sobriety optional. Having slung drinks at some of the best bars and restaurants in Toronto and East London, Harry most recently spent a year teaching cocktail classes all over the UK.