About this event
Chilling with animals is a perfect (nice)break from remote work - that is a given. But do you and your team truly know anything about the cuddly creatures roaming around on your Zoom break? Well if not, give this animal version of Are You Smarter Than a 5th Grader because Tiny Tails is here with their signature trivia session, all about our furry friends.
With this one hour session, your group will get to meet and interact with many of Tiny Tail's animals, simultaneously engaging in trivia to see which of your Zoommates are your team's designated zoologists. Expect an increase in animal puns and inside jokes as newly koalalified animal trivia experts, and a immediate relief of stress (we know remote work is giraffing you crazy)!
What to bring:
For this event no additional items are necessary to participate. Simply arrive to the video conference at your designated time and enjoy!
---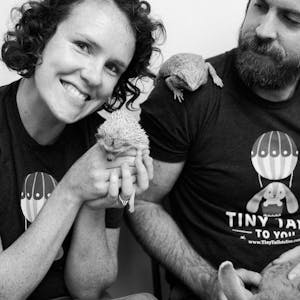 Tiny Tails To You
We started Tiny Tails to You in January, 2010 as a way to create safe and fun one-to-one connections with animals. Today, Tiny Tails to You is one of the highest rated event companies in Texas! As people spend more and more time interacting with screens and technology, they get less time being out in nature and with animals. Often our customers (and their children) describe how meaningful and special their experience was because a connection with an animal provides a more personal understanding of nature, the larger ecosystem, and the importance of protecting our environment.