About this event
Creativity comes in many forms. Expand your team's pallet with this captivating cooking experience. In this 1.5 hour class, Chef Monica will guide your team through two recipes. Your group can decide between delicious desserts or a two-course meal!
Great cooking is about more than just recipes - it's about technique and doing something with joy. Through a virtually interactive, hands-on class, Chef Monica will guide you to learn the proper techniques in an efficient and creative way that is not only educational, but also fun! She hopes to leave your team feeling empowered with newfound confidence and courage in the kitchen to try something new.
What to bring:
For this event, your team will get a PDF recipe packet sent in advance, with an offer to purchase an option ingredient kit shipped to your door. Other than that, you will need a pen, cooking equipment, ingredients, enthusiasm, hunger for learning and eating!
---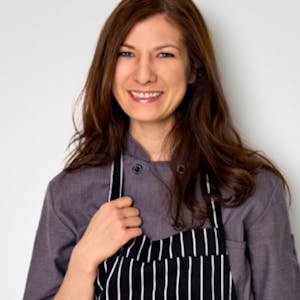 Monica Glass
Chef
Monica Glass is an award-winning pastry chef based in Philadelphia, best known for her gluten-free delights. Shortly after beginning a career in Public Relations, Monica realized that she was happiest in the kitchen and set out to improve her skills with an apprenticeship at Gotham Bar and Grill. She quickly rose through the ranks and has held pastry and Executive Pastry Chef positions in kitchens throughout the North East, including Le Bernardin in NYC, Clio in Boston, and Constellation Culinary Group. Monica draws on these collective experiences to fuse classic techniques with more modern and innovative approaches and ingredients, creating unique treats that inspire living life, eating seasonally, and sharing smiles.