About this event
Have you ever heard a song made with an orange traffic cone and yellow caution tape? Well these are just two instruments Wenzl McGowen played with his band Moon Hooch in their most recent viral video with NPR's Tiny Desk Concert. When becoming a professional musician, one of the most important skills to have is breathing control, which your host has come to master. Prepare to utilize guided meditation through the same breathing exercises and flow movements Wenzl uses on stage to heighten your team's focus and induce relaxation!
In this hour long session your team will work with Wenzl to perfect your breathing habits for whenever stress or anxiety arises while working. These methods are also great while at home for whenever you need a way to relax or unwind. Also expect to tap into your team's creative thought as the flow movements help free each member's minds from any distracting thoughts.
What to bring:
For this event no additional items are necessary to participate. Simply arrive to the video conference at your designated time and enjoy!
---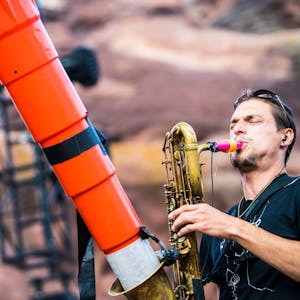 Wenzl McGowen
Moon Hooch
Wenzl McGowen is the co-founder of the band Moon Hooch, who have played over 1,500 shows in 20 countries and all 50 states. They have shared the stage with Coldplay, Taylor Swift, James Blake, and Tame Impala. A two-time author and TED speaker, Wenzl also speaks and writes about personal growth and consciousness expansion.