About this event
Has your team recently had a busy or stressful week? We, and the millions of other remote workers, completely understand. Take an hour long break with Kiko Sounds as she uses her talents to fill the Zoom call with the soothing sounds of Tibetan Singing Bowls. Lay down, stand up, or do however you please while the sounds of the ancient singing bowls wipe out the stress and anxieties from a long work week.
In this hour long session, your team will use a guided sequence to help nurture the body, mind and nervous system through techniques such as tapping, self massage and gentle stimulation of acupressure points. By accessing the body through the physical sensations of self-touch, the entire nervous system opens to the possibility of a deeper trust within, and a more open state of receptivity. Combining the sensory experiences of touch and listening creates a higher harmony within the senses, providing more direct access into subtle energies and self awareness.
What to bring:
For this event no additional items are necessary to participate. Simply arrive to the video conference at your designated time and enjoy!
Optional: Prepare a space comfortable for sitting or laying down to ensure peak relaxation.
---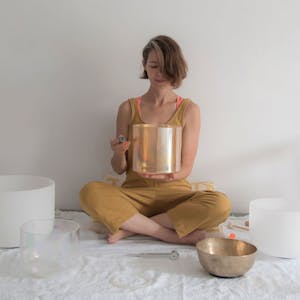 Kiko Sounds
Kiko is a certified yoga instructor and sound practitioner who has studied extensively with healers and musicians throughout India, Brazil, and North America. She studies Sri Vidya and the Himalayan Sage Tradition via the Himalayan Institute of Yoga Science and Philosophy and has received certification in Contemplative Psychotherapy through the Nalanda Institute (NYC). She is a Wellness Advocate for DoTERRA and conjointly studies plant medicine, aromatherapy and Chinese medicine.