About this event
Confined at home and often sitting for hours on end, your body can get real stiff and stressed. It is crucial to remember to unwind and loosen up before permanent health issues arise! Using restorative yoga, Kiko Sounds will guide your team through non-active practices that involve using props in your home to place the body in therapeutic shapes. This helps bring the body into a complete state of rest by creating optimal conditions for deep relaxation. From this place of rest, a guided meditation with gentle soothing sounds are introduced to enhance the journey within.
In this one hour session, your team will be fully immersed in relaxing sounds and non-active yoga practices in order to unwind and correct any strained limbs. This event also focuses on each individual assessing and correcting their mental health and any problems that may have arose from work-related projects or at-home issues resulting in stress or anxiety.
What to bring:
Prepare a nice spot in your work space that allows you to sit and stretch comfortably. If unable to, Kiko can incorporate a variety of non-active yoga moves that accommodate team members with limited space, just let her know before beginning.
---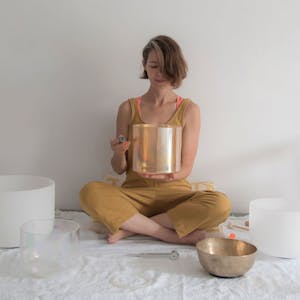 Kiko Sounds
Kiko is a certified yoga instructor and sound practitioner who has studied extensively with healers and musicians throughout India, Brazil, and North America. She studies Sri Vidya and the Himalayan Sage Tradition via the Himalayan Institute of Yoga Science and Philosophy and has received certification in Contemplative Psychotherapy through the Nalanda Institute (NYC). She is a Wellness Advocate for DoTERRA and conjointly studies plant medicine, aromatherapy and Chinese medicine.