About this event
Our world is drowned out by the sounds of millions of distractions every day. It can be very difficult to battle this noise when working with team members— even more so when remote where you have no control over the work environment. With the help of Kiko Sounds, your team will pinpoint the most distracting noises and utilize sound baths to clear out the things holding you back.
In this one hour session, your group will immerse in a soothing bath of sounds and experience an inner journey of deep listening, relaxation and self-healing. Kiko will put your team into a deep rest so the body, mind and nervous system are able to come into a more holistic state of union. The opportunity for heightened states of creativity, intuition, awareness, and full-bodied restoration are accessed, leading each listener into a unique range of personal potentials for self healing and connection within.
What to bring:
For this event only a pencil and paper or tablet to draw on is needed while enjoying Kiko's sound bath! At the end of the session, each team member will have the opportunity to share their drawings with the rest of the group!
---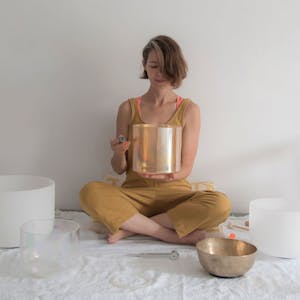 Kiko Sounds
Kiko is a certified yoga instructor and sound practitioner who has studied extensively with healers and musicians throughout India, Brazil, and North America. She studies Sri Vidya and the Himalayan Sage Tradition via the Himalayan Institute of Yoga Science and Philosophy and has received certification in Contemplative Psychotherapy through the Nalanda Institute (NYC). She is a Wellness Advocate for DoTERRA and conjointly studies plant medicine, aromatherapy and Chinese medicine.