About this event
Music can make our work - remote or not - much more enjoyable. But most of the time we're stuck listening to music. With the guidance of Wenzl McGowen, your team has the chance to work together to write and create music. Don't have any instruments? That's not a problem with Wenzl! Anything as simple as a pencil can be used to make music (Wenzl has done shows with a saxophone, traffic cones, and caution tape). Let's find out if there is any hidden musical talent in your team, and learn how to tell a creative story through song and sounds.
In this hour long session, your team will delve into a collaborative music creation session with Wenzl's direction, where your team will quickly pick up habits used by professional musicians. Expect to learn some basics of song-writing - we can't guarantee that your team won't form your own indie band after this!
What to bring:
Your best singing voice (if comfortable) & an open mind to create instruments out of what you have at your desk! Depending on your team's musical inclination and interests, Wenzl will establish how comfortable each participant is and then determine what your team will work together to produce!
---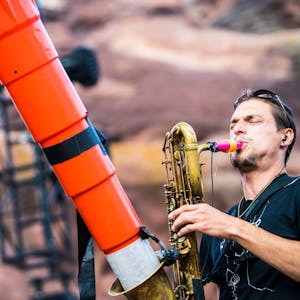 Wenzl McGowen
Moon Hooch
Wenzl McGowen is the co-founder of the band Moon Hooch, who have played over 1,500 shows in 20 countries and all 50 states. They have shared the stage with Coldplay, Taylor Swift, James Blake, and Tame Impala. A two-time author and TED speaker, Wenzl also speaks and writes about personal growth and consciousness expansion.